Lufthansa Munich to Singapore LH790 Flight Review: Fantastic
In May 2018 I flew on the recently relaunched LH790 Munich to Singapore flight with Lufthansa as part of my trip to Kuala Lumpur, let me just say, it was fantastic.
Comfortable, quiet and affordable everything air travel should be!
A tense beginning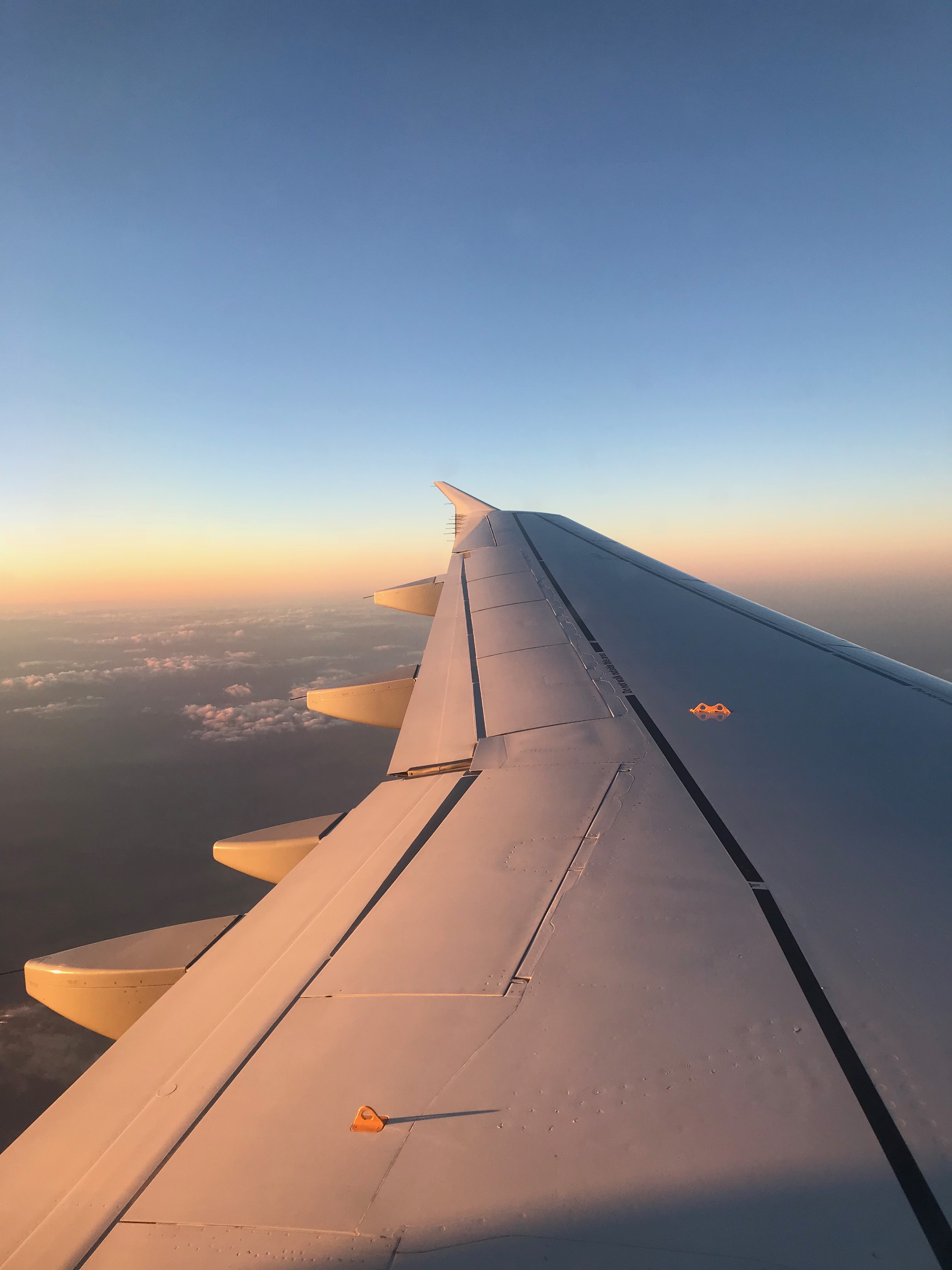 I started at home in Birmingham, catching an evening flight to Munich with an incredible sunset, we were slightly delayed getting into Munich, meaning I went from having a quoted 55 minute connection time to just 40 minutes before my flight to Singapore was scheduled to leave and boarding begins about half an hour before that time.
When I booked, I knew it was a short connection but was confident that everything would be ok, in part because of EU regulations surrounding delays (meaning if it was the airlines fault I missed my flight I would be compensated and re-booked) and that Munich is a very efficient airport to transfer in.
I didn't know how busy the flight would be or how long it would take to transfer, so naturally I rushed through the terminal to get the transfer train to where my gate was, fortunately as I got down the escalators the train was already waiting, less than a minute later it arrived at the next terminal and I started running again up escalators and stairs to find my gate.
Thankfully, I got to my gate just in time, little did I know it was delayed by half an hour while they searched for someone. All in all it took me just over 10 minutes to get from my first flight to the gate of my second one, aided by the fact I didn't have to clear any security or passport control in Munich.
My only slight criticism is that I had a few issues with the Airport Wi-Fi and was unable to use it, fortunately the EU introduced a handy rule allowing me to use my UK data plan within the EU.
Munich Airport gets a 9.5/10 from me.
A pleasant surprise
I boarded a new Airbus A350-900 aircraft and was surprised to see how empty it was, it wasn't as deserted as my previous trip to Asia, where I was one of just 52 passengers on board. But the flight attendant said there were about 100 empty seats out of about 300.
When checking in online the night before I was once again surprised, to discover that Lufthansa don't charge extra to pick an emergency exit seat (meaning extra legroom) they do however charge you to pick a seat before check-in opens.
The only downside to the exit seat is there isn't really a window to look out of, and for some people being close to the lavatory may be annoying.
My final destination was Kuala Lumpur, and in my previous blog post about a trip there I said I didn't fancy flying the 13 hour non-stop journey from London, that is true however this trip was notably shorter by a few days and I didn't have as much time available for a long stopover in the Middle East to break the journey up.
If my flight was full and/or I didn't have as much space, you can be sure I would be saying something different and wishing for a stopover half way (as happened on my return with SWISS to Zürich)
10/10 service
The service on-board was excellent, the entertainment system had a wide selection of content and was very responsive unlike some systems on other airlines which are clunky and slow, I also had in-seat power and USB, Wi-Fi and Cellular service was available too (for a charge)
I thought the A350 was remarkably quiet, even though I was sat right next to the engines, a far cry from some flights I have taken in the past.
For Dinner I was served chicken in tomato sauce, with cheese, mushrooms and potatoes - I am sure there is a proper name for it all.
This was accompanied by a bread roll with cheese and butter spread as well as a salad and a fruit jelly pot.
You can see an image of it here.
I cannot remember what the later second meal was, I think I was asleep when it was served.
Naturally, there were pretzel snack packets available on-demand too.
On arrival in Singapore, even though I hadn't slept much, I didn't feel at all tired or that I had just flown for almost 12 hours, thanks must go to the A350 and Lufthansa's service.
Go for it.
If you are thinking of flying to Asia or Australia, I highly recommend this flight, even more so if Star Alliance miles matter to you, the alliance which Lufthansa and Singapore Airlines are both members of.
Although it is a two stop to destinations other than Singapore such as Australia, that's not such a bad thing, especially if the convenience of flying from your home airport (like mine in Birmingham) is important to you, or simply you prefer certain airlines/alliances and don't want to transit through the middle east.
The flight from Munich departs just after a large hub bank arrives from cities across Europe meaning connections are swift and no waiting around for hours on end. Both Munich and Singapore are excellent airports to transit.
Of course, I can't guarantee you'll have a flight as quiet as mine and I didn't experience an economy seat with someone in front of me, but definitely give it a try!
Lufthansa have an agreement with Singapore Airlines coming into effect in July 2018, meaning you can fly to Singapore with Lufthansa then connect onto Singapore Airlines' network to Australia and beyond with a codeshare.
The price difference between flying one-stop with Emirates or Qatar Airways vs Lufthansa was non-existent in my case.
At the time of writing Lufthansa fly the A350-900 from Munich to numerous destinations worldwide, some of the ones in Asia: Seoul, Shanghai, Bejing, Bangkok and Singapore. Several US destinations are also served including Boston, Chicago and New York (JFK & Newark).