Qatar Airways 787 Dreamliner - Great, but not great.
I recently flew to Kuala Lumpur for the final 2017 Malaysian Grand Prix with Qatar Airways via Doha, and on the whole had a good experience, there were a couple of things that weren't quite right though.
I chose to fly via somewhere because I didn't fancy the direct, non-stop 13 hour stint from London, even though it was about £30 cheaper. However flying via somewhere gave me a welcome break in my journey and allowed me to stretch my legs properly as well as getting off a plane for a bit.
I chose to fly from Manchester with Qatar Airways via Doha (their hub) this neatly gave me two flights which were roughly the same length. The only downside was I had to get from home in Birmingham, to Manchester Airport and the fact I landed in Kuala Lumpur quite late so I needed to avoid sleeping on the plane too much if I wanted any chance of sleeping on arrival.
It started out great
I couldn't believe my luck when I got on my plane in Manchester and there were just 52 passengers on-board (a flight attendant told me so) it was very surreal being on a relatively long flight with a whole row of seats all to myself.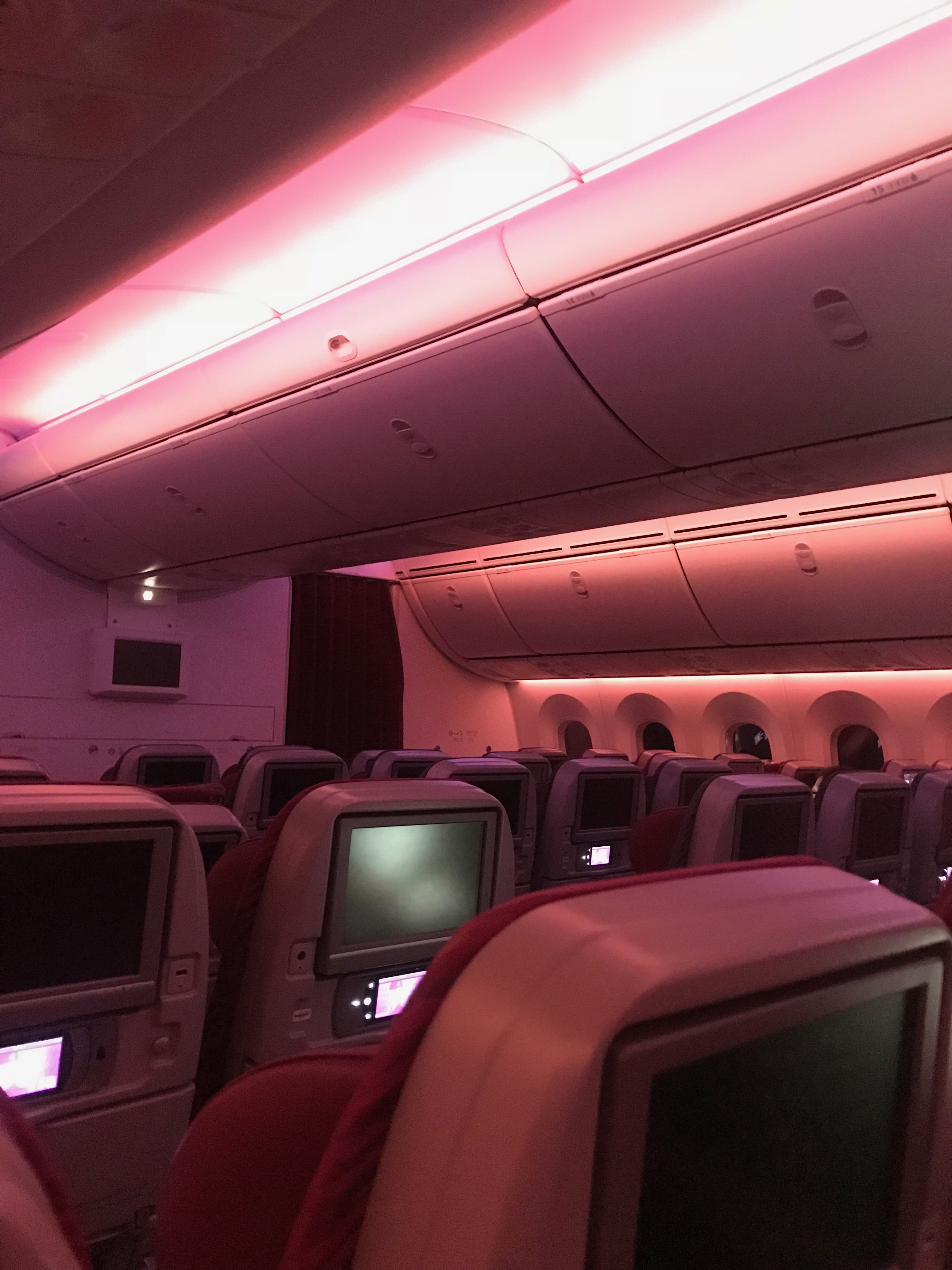 Despite the low number of passengers on-board the crew still gave a fantastic service and definitely lived up to the reputation.
Does it add up?

As an interesting side note, at the time of writing Qatar Airways serve Manchester twice daily and three times on Saturday and Monday!
Which raises the question: Why do Qatar have such a high frequency for the route? I imagine they sell a lot of business fares and carry freight which pay the bills.
By contrast Birmingham and Edinburgh each have one daily flight and Heathrow has 6 daily flights (that's understandable though given it is a large hub and the various connections)
Qatar Airways strike me as the kind to kick out a route if it isn't performing, as they demonstrated by ditching Gatwick to Doha, this behaviour isn't unexpected though, it's just business.
It will be interesting to see how Cardiff's daily dreamliner flight starting in May 2018 fares - I do hope it lasts though.
Correction in February 2020: Qatar Airways now serve Manchester three times a day with widebodies as large as a Boeing 777 and have also restarted the Gatwick to Doha route.
I probably got very lucky on such a quiet flight.
My luck continues?
Ok, this time I know it was pure luck. Yes, my second flight was a bit empty but definitely had more than double the passengers on my first flight. I landed in Doha at about 6am (local time) and had a short two hour wait for my connection to Kuala Lumpur.
I was a bit disappointed that we had to use a bus gate in a modern airport such as Doha (it only opened a couple of years ago) but I'm sure there is a logistical reason for it. Either way, it wasn't fun to have to stand out in the scorching morning sun (38°C) for a short while waiting to board the aircraft, we later found out what the problem was when the captain made an announcement close to landing in Malaysia.
After waiting to board the plane, I was happy to find out nobody was sat next to me and had 3 seats all to myself again! Once seated we sat still at our stand for at least half an hour whilst ground staff rushed up and down the aisles and finally closed the doors. It was hot.
It turns out the air conditioning was broken on the plane and they had tried all sorts of tricks to get it fixed, finally the captain decided we were late enough and started to taxi towards the runways - he made an announcement saying that once airbourne the temperature would reach a more bearable level (this made sense as outside air is often filtered into a plane or bleed air from the engines is used on most aircraft, this isn't the case on a dreamliner however)
About 30 minutes from landing in Malaysia the captain made an announcement giving us information such as local time, temperature and humidity and to expect a similar experience to that in Doha due to the AC issue. To be fair, it wasn't that bad on landing or maybe I didn't feel it as much because I was tired?
Regardless, the service from the cabin crew was fantastic once again.
So what was wrong with the 787 Dreamliner?
The Boeing 787 Dreamliner has some great improvements over traditional aircraft, such as pressurizing the cabin differently so you don't feel as jet lagged on arrival, LED mood lighting and large windows with electronic blinds.
But it does definitely have it's drawbacks. One, not unique though, is the In-Flight Entertainment (or IFE) boxes underneath the seats in front of you which impede on leg room depending on the type of plane you are on. I have seen lots of reviews of Dreamliner's saying that the IFE boxes leave barely any space, I didn't think it was that bad. The Airbus A330 I was on on the way home was much worse.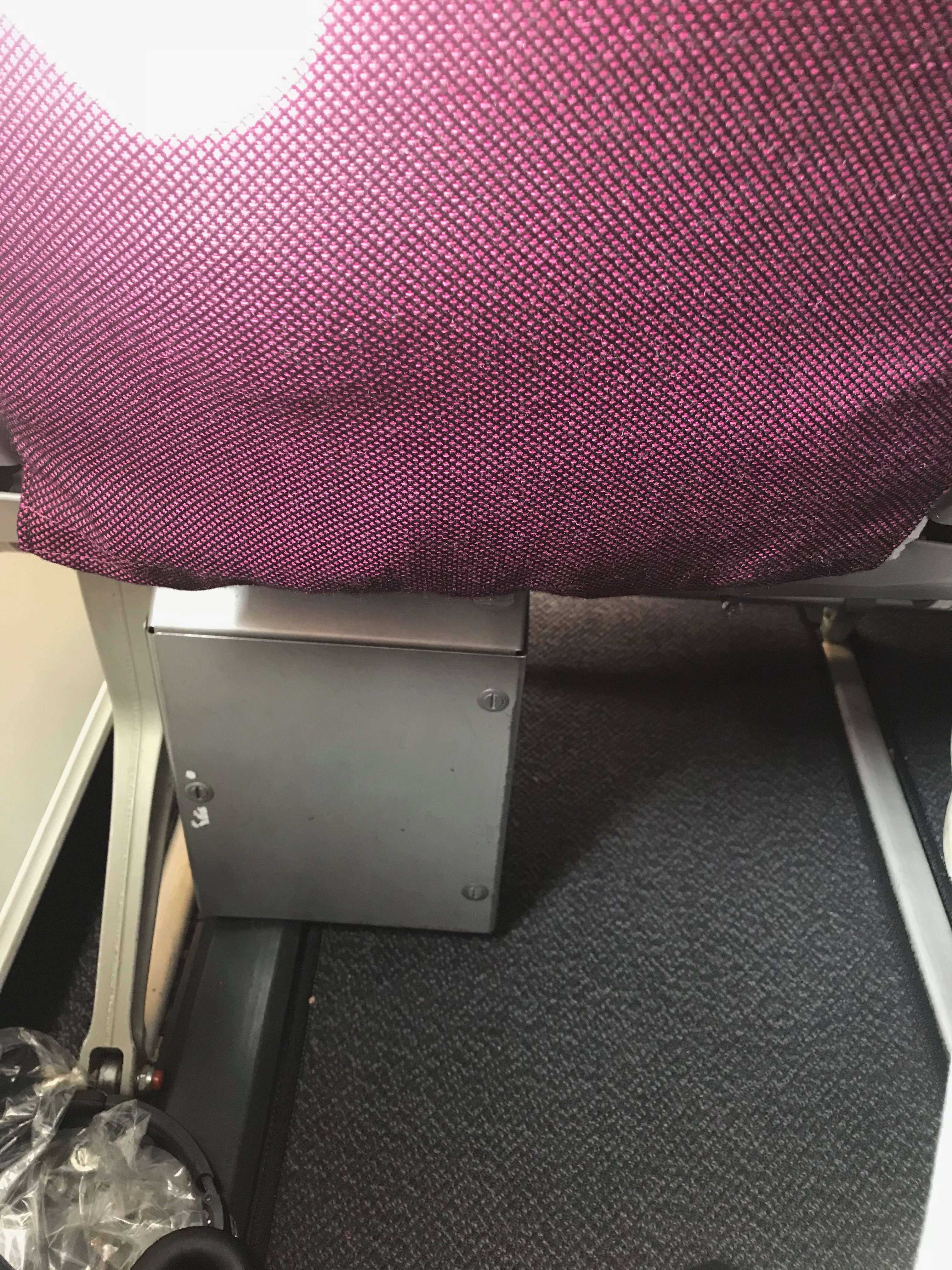 That monster took up pretty much half of the space under the seat in front of me.
My biggest gripe by far about all of this though was a very annoying high pitched noise that I could hear throughout the flight, which I am convinced is caused by the IFE boxes, it was rhythmic and I could almost say ruined the flight for me. It prevented me from getting much sleep, as once I had noticed it I couldn't 'un-notice' it. Oddly this was not present on the A330, but only on the Dreamliner flights.
I hope you like your neighbours.
Another drawback is the configuration Qatar Airways (and most other airlines) have adopted for these planes. They have configured it with 9 seats for each row in economy, which is fine on an A380 but I believe these planes are only designed for 8 abreast seating, as recommended by Boeing and as a result don't have a great deal of legroom, especially if like me, you are quite tall - further to this the seats are a bit narrow resulting in some fun armrest battles with your neighbouring passengers.
This is all about maximising revenue and is a business decision so I can't blame them much, but the rest of their service is definitely 5 stars as rated by Skytrax which they love to shout about - a dedicated splash screen even when opening the mobile app.
The iPhone app.
My final point is to do with their mobile app, I have an iPhone and think Apple Wallet is a great feature.
It allows you to combine your credit/debit cards, loyalty cards and crucially airline tickets into one, easy and quick to access place. All I have to do is double press the home button and it appears, ready to go.
I have used this twice before, once on Emirates and once on Eurostar. Both worked flawlessly, Qatar's implementation however didn't work quite so well.
I am not sure if this is an issue on the iOS side or the app itself but as I haven't had the issue before I would say the app is at fault.
It doesn't seem to be able to keep track of time very well as you can see below.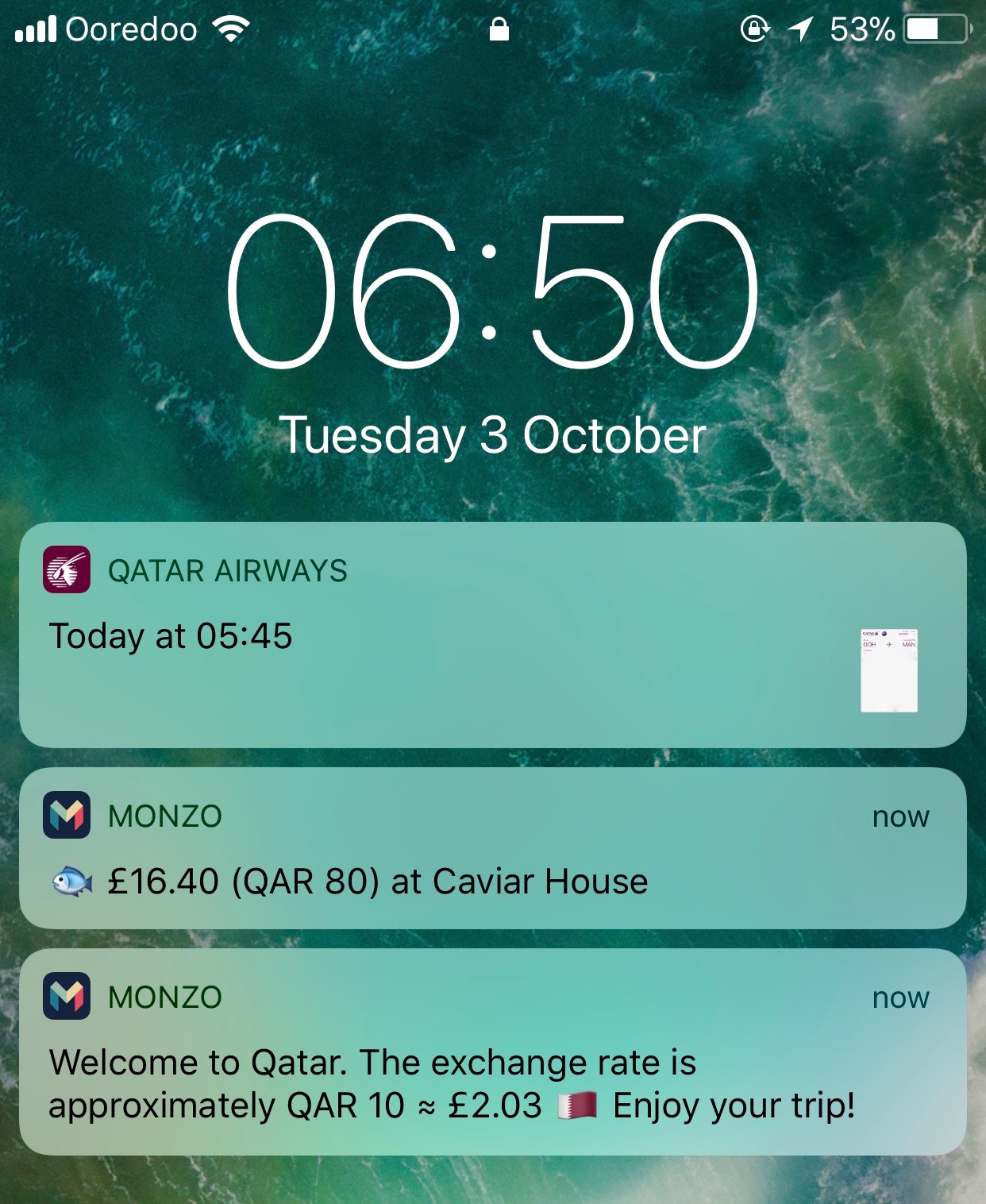 Also present in the image is the top notch Monzo bank app, notifying me about a payment less than 10 seconds after I had finished entering my PIN to pay - it is very quick. And has no foreign transaction fees meaning I load £100 on to it and can actually spend £100 and get the best currency rates and don't pay commission or anything but can use it like a normal payment card, it's even contactless! Finally, it's MasterCard so has wide acceptance.
Now I've finished plugging Monzo let me clarify, my flight departs at 07:45, but the boarding pass thinks it departs at 05:45. It didn't even begin boarding until about 7am. So there must be something really wrong with it!
I also lost all confidence in it working when at Manchester it worked at security but didn't at the gate, I had to use the printed boarding card given to me at bag drop/check-in, how old fashioned! Again in Doha, it didn't work at the gate and they printed me off a boarding card which was seemingly identical to my mobile one. From then onwards I simply used the mobile one as a reference for my gate and a reminder of the time (or not as the case may be)
A small positive is unlike the Emirates app they actually scale it to your devices screen size, a very simple concept, but it seems many companies can't manage it.
Don't let me put you off.
Well, that was a long ramble, if you're still here I just want to say, on the whole, Qatar Airways do provide a great service both in the air and on the ground at Hamad International.
No airline is without it's faults, but I just wish they would fix or mitigate that stupid noise on their dreamliners.
So if you were contemplating flying with them, don't let me put you off in any way (remember I only flew in Economy) so go for it!